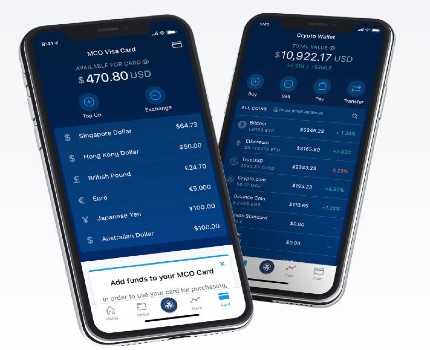 Crypto.com is a cryptocurrency ecosystem that is really worth consideration of South African traders. As the pioneering payment platform of its kind, it enables you to buy, sell, and pay with cryptocurrencies. It was founded in 2016 as a link between blockchain technology and the traditional finance universe.  It is an investment, trading and wallet app combined, which enables you to easily allocate your portfolio focus and your funds. You can choose among over a dozen or different financial products (Visa cards, mobile app, crypto exchange, private wallet, FX exchange, and even loan), supporting over 55 cryptocurrencies, including the popular Bitcoin, Etherum, Ripple, Litecoin and Bitcoin Cash and over 7 fiat currencies.  There is hardly any product you can think of, that Crypto.com doesn't support – rebates on top-notch services, webshops and platforms, cashback deals, high returns on interest account, returns on staking coins etc.  All this comes under a total cryptocurrency insurance umbrella up to $360m. Crypto.com offers a lucrative referral program that provides $50 USD equivalent sign-up bonus for you and every friend you onboard to Crypto.com.
Is Crypto.com Safe?
Crypto.com invested a lot into their product range, but even more to its overall security protocols. Here are some of the highlights of the Crypto.com's security features:
Cold Storage – 100% of user's crypto is held offline in a cold storage, which means you'll have an extra layer of protection against possible hacking attacks. In addition, Crypto.com has cold storage insurance coverage in place to guard against direct loss or theft. This coverage will provide a financial buffer of up to $100 million USD should the worst occur.
Fiat currency security – Crypto.com stores your fiat currency  in custodian bank accounts that are secured and regulated
Infrastructural security – Crypto.com is integrated with Amazon Web Services (AWS)  to provide cutting edge infrastructure security
Crypto.com App security features – The Crypto.com app utilizes numerous security features like Two-factor authentication (2FA), withdrawals protection, 24/7 live customer support and beyond.
Overall, Crypto.com offers an abundance of security features designed for and aimed at your funds's safety, the safety of its infrastructure, and the privacy of its users.
Crypto.com Exchange
Crypto.com Exchange is a platform that enables you to buy, trade, keep, and earn cryptocurrencies in South Africa. Here is a comprehensive review of this innovative platform that is revolutionising the ways cryptocurrency investing is done.
Blockchain is generally considered revolutionary. Crypto.com Exchange technology on which cryptocurrencies are based, it has many exciting features. It is decentralized, immutable, and trustless. Those characteristics of their underlying technology can make cryptocurrencies seem totally irreconcilable with traditional finance.
The cryptocurrency industry in South Africa is growing by leaps and bounds. Although cryptocurrencies, as digital assets are just a little over a decade old, the industry that has developed around it, is strongly thriving. Businesses within it are serving legitimate needs.
For example, buying and selling cryptocurrencies has now been rendered easy. With just a tap or a click, you can check the Crypto.com Exchange South Africa to see thousands of listed cryptocurrencies and buy and sell the one(s) you want. However, there is a caveat.
Even though numerous brands have sprung up to meet the diverse needs in cryptocurrency trading and investing, you have to be careful before you choose one to trade with. Cryptocurrency trading is already a high-risk venture. Hence, you should limit your risks by taking adequate caution before you use any South African cryptocurrency trading platform.
Crypto.com Exchange's Growing Appeal
Crypto.com Exchange has been able to attract over 2 million users from different parts of the world. This is not a surprise. It appears to be trustworthy and medium-risk with a well-known management team.  For example, notably, Crypto.com Exchange holds certifications from Bureau Veritas, Kudelski Security, PCI DSS, and the Cryptocurrency Certification Consortium. Although its customers are insured up to $360 million in coverage, the only issue they might have with its operations is in regard to its opaque financials and limited track record.
Crypto.com Cashback
Nevertheless, Crypto.com Exchange has, as its unique competitive advantages, innovative saving and investment options that it makes available to its users. When you use your card for everyday purchases, for example, you receive Crypto.com Cashback 1.5% of the total spent amount in a cryptocurrency called MCO token. This currency is offered by Monaco, another platform that offers general cryptocurrency payment services. With Crypto.com South Africa, a cryptocurrency exchange that enables its users to create wallets which they can fund with multi-currency cards.
Crypto.com Cashback – a beneficial auxiliary
Besides, it offers an extensive list of products with which its users can also operate crypto saving accounts, generate interests on them, and trade multiple digital currencies at competitive rates. In fact, with the Metal Visa Cards that it supports, you can get up to 5% cashback on all your spending on it. Unfortunately, Crypto.com Cashback is not yet available in South Africa.
Coin staking is another amazing possibility that you can get to benefit from by using Crypto.com Exchange. For example, by staking 500 MCO tokens for at least six months, you can get to have access to different hotel lounges around the world. Also, your Spotify and Netflix subscriptions will be 100% reimbursed.
Here are the main staking rewards:
For card purchases, you earn more MCO rewards
For Crypto invest: you 50% discount on profit fees
For Crypto Earn: you get better annual interest rates
Furthermore, you'll receive yearly interest in MCO on your stake, credited to your wallet every seven days:
With 500 MCO staked, you receive 6% yearly interest.
With 5000 or 50,000 MCO staked, you receive 8% yearly interest.
Crypto.com Free Account
Really, using Crypto.com free account in South Africa comes with many benefits. The liquidity on the exchange is deep, transaction charges are low, and execution prices are highly competitive. If you are a private member, the opportunities are even greater.
Crypto.com Free Account – access to exclusivity
For example, you will be offered exclusive and priority access to Crypto Invest and the exchange's self-published reports. Also, with Crypto.com Free Account, you will be given access to top industry events and inheritance service.
Are you new to the world of cryptocurrencies? Or maybe you have been investing in the revolutionary digital assets for some time now. Whatever it is, and no matter your level of experience, you should want to consider opening an account with Crypto.com South Africa.
There are several alternatives to Crypto.com for investing and trading in cryptocurrencies. If you are interested in investing in Bitcoin for an example, make sure to compare the numerous options introduced to you by the South African market leaders in online trading. Don't miss to read more about them in our Deriv.com Review South Africa and our  IQ Option Review South Africa.
Conclusion:

We make it our mission to not recommend anything but the best – which, according to industry experts, is IQ Option, the top broker for your country with a minimum deposit of ONLY $10!

FREE $10,000 demo account
Award-winning trading platform
World-renowned broker

Trade with an
award-winning broker
like IQ Option

Between 74-89 % of retail investor accounts lose money when trading CFDs