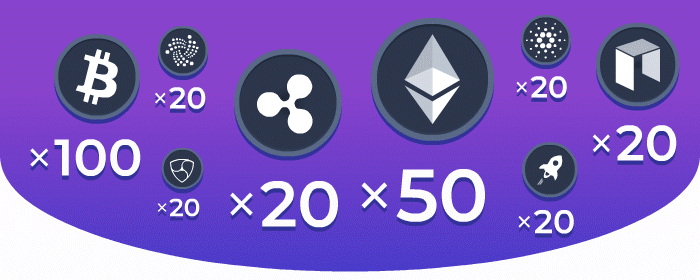 In response to the huge success of Bitcoin x100 that was recently introduced to their platform, IQ Option adds all-new crypto multipliers for South African traders: Ripple x20 and Ethereum x50. The award-winning broker proves once again that they pay close attention to what their investors need and always jump at the opportunity to offer them exactly what they promised: the ultimate trading platform with thousands of trading and investment opportunities.
Not only do they now offer Ripple x20 and Ethereum x50, but IQ Option also has a multiplier of x20 available for NEO, IOTA, Stellar, NEM and Cardano. All of the latter are presented on the platform as separate crypto assets.
In the midst of a crypto market that continues to experience drastic price changes in its most popular assets, multipliers have proven to be a catalyst when it comes to cryptocurrency trading. They offer users tangible results fast and just when things are 'hot' in the market. What makes multipliers even more exciting in investor's eyes is the bigger the multiplier, the more substantial the profit or loss. IQ Option wants their users to benefit from current events in the crypto market, which often only means one thing: act smart, act fast and act now.