Bitcoin Trader is a bitcoin investment website that claims that you can profit $13,000 per day if you invest with this software. In fact, traders can profit over a few million dollars in a few months while trading with Bitcoin Trader. Let's see what this is about and how The Bitcoin Trader works!
South African traders wishing to trade with a real software, should signup with FXMasterbot.

How Does Bitcoin Trader Work?
Bitcoin Trader claims to have superior technology, laser performance and that they created an award-winning app. Also, their software is 0.01 seconds ahead of the market and performs at 99.4% level of accuracy. Also, they won 1st place in the trading software category for the UK Trading Association. When our team started to dig a little bit, we found so many proofs that this is a real scam. This scam promises massive ROI with huge profits over a short period of time. It is profitable every day of the week, forever and ever. This is just not possible.
Within a few days, according to Bitcoin Trader software, traders will achieve financial independence and earn a great sum of money. Living a luxury life and having a passive income of $13,000 – $25,000 per day is just a dream and you are for sure scammed by people that created this software. Also, this website is created in order to convince you or any trader interested in this kind of a product, that this is possible. A lot of images with people on vacations, beautiful cars, and huge apartments and houses can change someone's perspective and lure him into investing money. In reality, there is no real evidence or possibility that someone will provide you a software that can generate daily profits.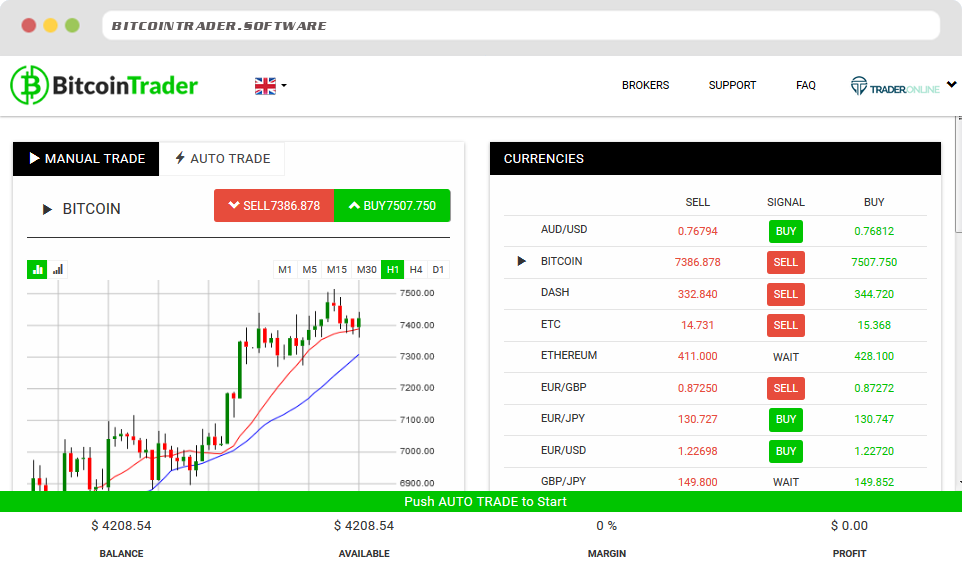 Why Should I Stay Away From Bitcoin Trader?
Many of our South African traders have probably heard about Trevor Noah. He is a big entertainer, tv host, and literally megastar in the United States. However, some binary trading websites created his profile and used pictures on binary/forex trading robots. This way, Trevor Noah became even more popular because of his involvement with the trading industry. Which is of course, NOT TRUE.
All these articles are connected to one of the systems called – the Bitcoin Revolution. Also, these articles are leading to the Bitcoin Trader which, if you can check on other credible websites like FairForexBrokers.com has been reported as a huge scam. We advise our clients and traders not to trust any of these stories about Trevor Noah trading millions of dollars. You can trade on your own and find something that suits your style but don't bother with this kind of fraud.
Also, Bitcoin Trader company doesn't exist and we were not able to find even the name of the owner or the company address. All this info suggests that the whole website is not legit and that all traders need to keep in mind that making a deposit with this scam bot will result in frustration.
Verdict
So is Bitcoin Trader a scam? The answer is Yes and people are lying about the incredible profits that can be earned in a short period of time. Also, trading schemes require time, learning and strategies. It is not possible just to deposit $250 and earn millions in a few months. As we learned from previous articles and common sense, if it sounds too good to be true, it is not!
South African traders wishing to trade with a real software, should signup with FXMasterbot.